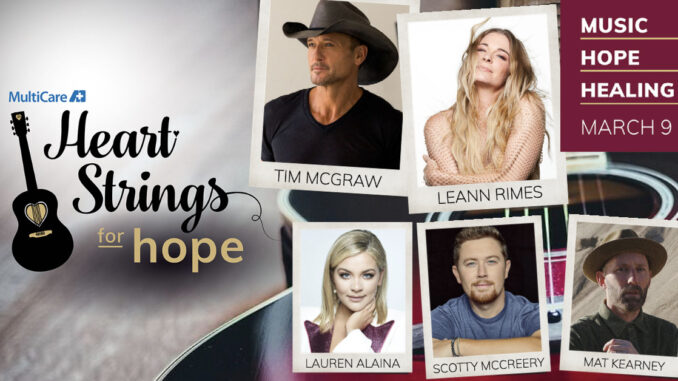 MultiCare Inland Northwest Foundation is hosting a benefit concert, virtually, called Heart Strings for Hope, on March 9 at 6 p.m. PST.

With 22 musicians, the concert will feature performances from artists across multiple genres of music, headlined by three-time GRAMMY® Award winner, Tim McGraw. McGraw will be joined by Scotty McCreery, Lauren Alaina, Mat Kearney, Matthew West and other notable performers.
The virtual concert, which will be hosted by GRAMMY Award-nominee Bryan White, will raise funds to support MultiCare Behavioral Health Network programs and services in the Inland Northwest.
Ticket prices start at $10 and can be purchased here: https://vye.live/event/heart-strings-for-hope/

For more information, including the full line-up of artists, visit multicareheartstrings.org
Enter to win here: