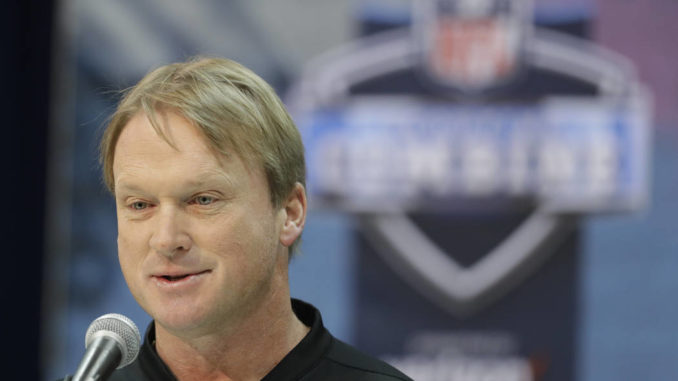 INDIANAPOLIS — In April 2017, a billboard that declared "the Raiders are coming" was the first visible hint a 62-acre dirt lot in Las Vegas beside Interstate 15 might morph into something more. Today, the $1.8 billion project has taken shape, crews with cranes installing the stadium's foundation.
The future is building.
So is Jon Gruden's comfort discussing it.
The Raiders coach inherited a delicate situation when hired in early 2018. The franchise was poised to relocate to Las Vegas in 2020 but remained in the Bay Area. Gruden recognized the sensitivity, sidestepping the Las Vegas topic when possible. On Thursday, he publicly acknowledged the franchise's future home at length for the first time.
The move, after all, is one year away.
Gruden recently visited the stadium site, he told Raiders reporters at the NFL scouting combine. The conversation occurred in a group interview following a news conference he held.