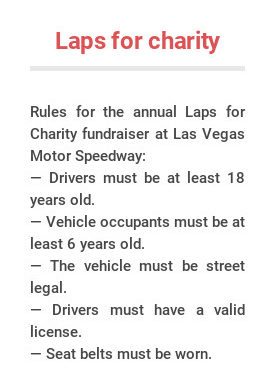 It can be assumed that driving the family sedan around Las Vegas Motor Speedway at the pedestrian pace of 70 mph is nowhere near as exhilarating as zipping around it in one of Roger Penske's NASCAR Fords at 191.489 mph — Ryan Blaney's pole-position speed at last year's Pennzoil 400.
But if you fashioned yourself a ballplayer and were offered three swings at Wrigley Field, Fenway Park or Yankee Stadium for $35, and you weren't allowed to swing for the ivy or the Green Monster or the short porch in right field, would you still do it?
Yeah. That's what I thought.
The only time the general public is allowed to drive personal vehicles on the big LVMS oval is at the annual Laps for Charity fundraiser set for noon to 5 p.m. on Sunday. If three laps on the high banks aren't enough, three addition laps can