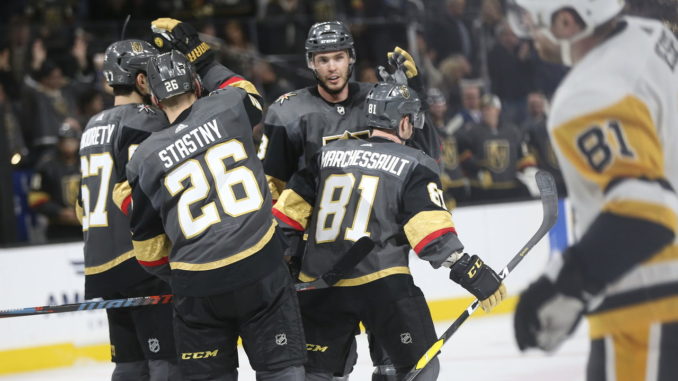 Local sports fans had several quality choices for spending their entertainment dollars on Saturday.
But for sheer excitement, none of the events that took place in town could top the action at T-Mobile Arena.
Jonathan Marchessault recorded the third hat trick in franchise history, and the Golden Knights raced to a 7-3 victory over Pittsburgh in an action-packed encounter.
"Tonight was definitely special," Marchessault said. "When we play Pittsburgh, it's always special for us because it's our best player of the team (Marc-Andre Fleury) playing against his old team, so we definitely want to show off for him. He was big for us. He stopped a lot of grade-A (chances) and we were able to back him up."
Fleury finished with 34 saves against his former team, including a sprawling stop on Phil Kessel in the second period to keep the score tied at 3.
Max Pacioretty and Oscar Lindberg