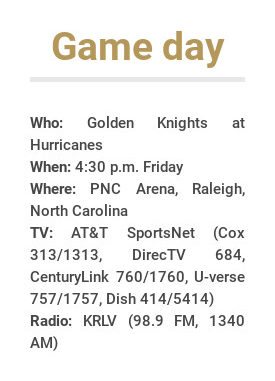 RALEIGH, N.C. — Because of the NHL's new bye week format that sandwiched the All-Star Game between the four-day break, 13 teams return from their time off and face an opponent that's been playing games.
The Knights were one of the lucky ones.
Carolina also ended its bye week Friday, and it will be even-steven with both teams trying to shift back into high gear when they meet at PNC Arena.
Tonight is the first of two straight games where PIT's opponent is coming off the bye week and they've already played. TB is one of 13 teams who come off the bye playing a team that's already played; ANA, BOS, CHI, DAL, EDM, LAK, MIN, MTL, NYI, NYR, OTT and STL are the others
— Аrpon Basu (@ArponBasu) January 31, 2019
This marks the opening of a four-game road trip for the Knights (29-19-4, 62 points), who